Tuesday, July 31, 2007
Name That Tune
Those Test Thingies
Just a few tests I've found, most of them today
at the Nexus
and at least one
at the Hidden Blog
:
84%How Addicted to Blogging Are You?
I'm convinced that the only reason I scored so high here is that I own my own domain. I don't update frequently enough to be that addicted, right? And why can I hear my wife smirking in the background?

---
I figured I'd get a PG-13 since I occasionally use the word "sh*t" (and usually don't censor it), but as a parent, I'm cool with the PG. I'd actually prefer a G, but PG is groovy. Maybe I'd get the G if I'd watch my potty mouth.

---

They say that coffee has the same addictive properties as heroin. That worries me, because I'm seriously addicted to coffee, so it's going to be pure hell when I finally give up heroin. (Har har.)

And why won't this one center? Dammit.
---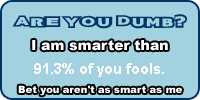 Am-I-Dumb.com - Are you dumb?
OK, so I are not as smart as The Unseen One, but I knew that going in, and that's cool. I am, however, insecure enough that I know I'll spend the night wondering which questions I missed (since the test doesn't tell you). Oh, well... I guess I can comfort myself with the knowledge that outcome based educators would cushion me in the "doesn't test well" group.

---
FilmCritic.com - Movie Reviews
Alright, I have an excuse here. One of the questions was about Old School and I missed half of that movie. The other question I missed was about The Terminator and I screwed up and clicked the wrong friggin' link! Doh! Other than that, I guess 90% is acceptable for a film geek.


Labels: Blogs
Monday, July 30, 2007
Whatever
Thursday, July 26, 2007
Now THAT'S A Split
Martyrdom
Obama: "I Know You Are But What Am I?"
Wednesday, July 25, 2007
News N' Such
Movie Review: Zodiac
Tuesday, July 24, 2007
Is It Just Me...
Monday, July 23, 2007
Mohawk Boy
Wednesday, July 18, 2007
MCFAT 18
Tuesday, July 17, 2007
I Love Snopes
Monday, July 16, 2007
Randomness
Sunday, July 15, 2007
eBay Movie Treasure Hunt
Saturday, July 14, 2007
So Long Film Geeks
Movie Review: Transformers
Friday, July 13, 2007
More Than Meets The Eye
Thursday, July 12, 2007
Book Review: The Mote In God's Eye
Wednesday, July 11, 2007
News And Other Such Junk
Tuesday, July 10, 2007
S.C.A.T. Answers
Sunday, July 08, 2007
S.C.A.T. (Number One?)
Friday, July 06, 2007
Sympathy For The Devil On Screen
Wednesday, July 04, 2007
Ooh. Aah.
Tuesday, July 03, 2007
Netroots
Monday, July 02, 2007
Randomly Amongst The Blogs
Subscribe to Posts [Atom]